Perhaps you want a painting that is totally unique to you. Maybe you have some favorite calligraphy that you would like to see on canvas adorning your walls in the most impressive and aesthetic manner. 
Hamida accepts commissions for one of a kind paintings. She is experienced working with architects and decorators to create a unique atmosphere. We provide complimentary estimates based on the parameters of your project. Each of our limited edition digital print is signed by the artist and includes a certificate of authenticity. 
The printings are printed on a museum quality archival canvas. The canvas is stretched and mounted over a wooden frame ready to display. 
For purchase inquiry or further information on any of the artwork on this website please contact us at: info@myhmstudios.com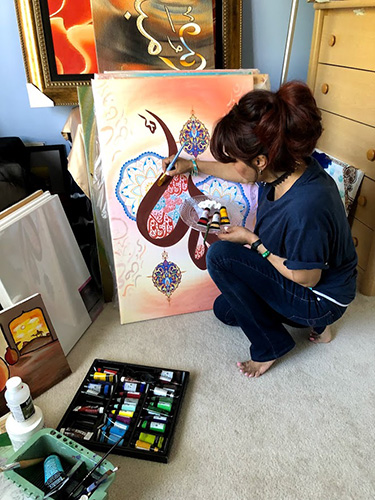 Ponce De Leon Ave NE Atlanta, GA 30306