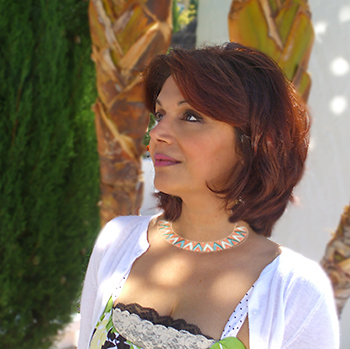 Hamida Madhani is a US based contemporary artist, independent creative director and a designer. Driven by the search to experientially understand our subjective experience of beauty and its relationship to forms and objects, Hamida's art explores the glorious rays of our being by creating art as a pathway to inner realities and spiritual dimensions of our existence. Utilizing her multicultural heritage and educational background in Computer Science, Design and Industrial Management, her artistic creations are a beautiful synthesis between digital and traditional art forms as well as eastern and western forms.  
She works in a variety of styles and themes but her focus has been on lyrical abstract and modern Arabic calligraphy art. Numerous works of her art has been commissioned by collectors internationally and has been exhibited across US, Canada, London, Germany, Abu Dhabi and China. She has also been active in community service. For the past several years she has been donating her art pieces to the Aga Khan Foundation a non-profit International Development Organisation to help raise funds for global development programs in health, education and rural development.
Hamida's Art Exhibition in Germany
Solo art exhibition "Symbiosis of Art and Cultures", at Kreishaus Paderborn, Germany, invited by the Governor Herr Müller who also delivered the keynote speech. The focus of the exhibition was to encourage and stimulate the intercultural dialogue at different level.